Serena Williams: Final - The Championships, Wimbledon 2017 - Official Site by IBM
Serena Williams: Final
Follow the latest news and scores from Wimbledon 2016 on Wimbledon.com or Apple TV, or download the official IOS or Android apps for smartphone and tablet
Serena Williams talks to the media after the 7-5, 6-3 win against Angelique Kerber
Q. How much of a relief is this? Is seven your lucky number or 22?
SERENA WILLIAMS: It's obviously a great relief. But more than anything I think it was a really good and exciting win for me today.
Q. It was important to win, but does it make more satisfaction for you the fact that it was a great final, Kerber played very well, probably one of the best finals you played here in Wimbledon?
SERENA WILLIAMS: Yeah, I think it was a great final. She played really well. We had a lot of long, tough points. I think every single point I worked for, and nothing was given to me.
Yeah, it made for a really good match.
Q. Have you had a lot of sleepless nights in the past few months with everything that's been going on? Does this take a lot of tension off?
SERENA WILLIAMS: I have, yeah, definitely had some sleepless nights, if I'm just honest, with a lot of stuff. Coming so close. Feeling it, not being able to quite get there. My goal is to win always at least a slam a year. It was getting down to the pressure.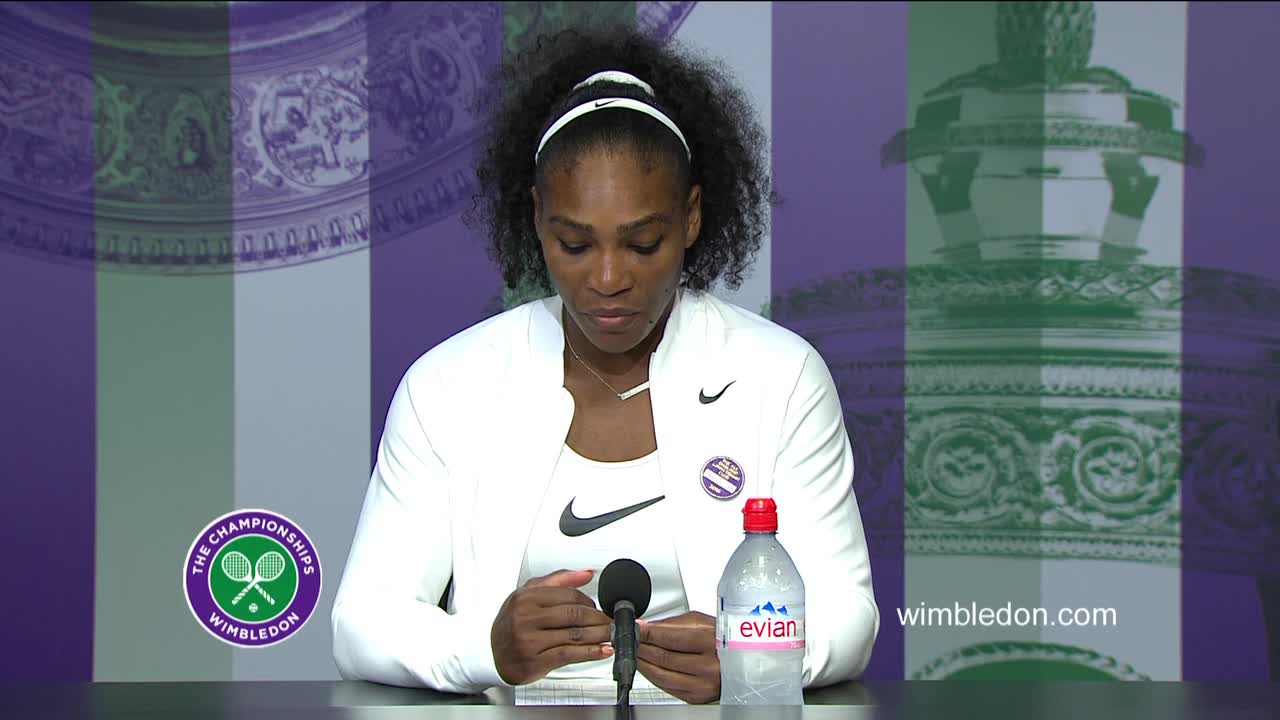 Q. Except from winning, compared to Paris and Melbourne, what have you done differently this time?
Q. You spoke about how you were feeling calmer coming into the final. Did you feel that all the way through the final? Second set it looked like you were getting a bit stressed.
SERENA WILLIAMS: Actually, I felt a little more stress in the first set. After I won that first set, I got a little more calm. At one point I really, really took a deep breath. If I can just play my game, I know I have a really good chance at winning this match.
Q. Since you won here last year, you've had a pressure on you we can only imagine. Talk about the process of dealing with it, the tremendous disappointment after New York, how that's helped you to grow.
SERENA WILLIAMS: Yeah, I've just felt, you know, a lot of pressure, I guess. I put a lot of that pressure on myself. Obviously had some really tough losses.
But, you know, if you look at the big picture, I was just thinking about, you know, getting to three finals, Grand Slam finals. In the past eight Grand Slams, I don't know how many finals I've been in. It's pretty impressive.
I had to start looking at positives, not focusing on that one loss per tournament which really isn't bad, and for anyone else on this tour would be completely happy about it.
Once I started focusing more on the positives, I realized that I'm pretty good. Then I started playing a little better (laughter).
Q. John McEnroe described your performance today as superhuman. Where do you rate it?
SERENA WILLIAMS: I don't know. Honestly, I haven't really had time to think about it or see it. I'm still living in those emotions right now, so I'm not quite sure.
Q. Your comments after the semifinal about being not just the best female athlete, but the best athlete, also about equal pay, respecting women in sport, all went down in a storm on social media. There was a lot of love. Also a lot of people saying you inspired them. How does it make you feel to know you have inspired and are still inspiring millions of girls all over the world?
SERENA WILLIAMS: That's why I ultimately feel like I'm here. I've been given such a great opportunity, I've been given so much talent. I've been put in a position where I can inspire females, ladies, and men as well. Anyone, any kid out there that wants to be something, has dreams.
I've had great dreams. I didn't come from any money or anything, but I did have a dream and I did have hope. That's really all you need.
We shouldn't put any female athlete in a box. Why do we have to be limited to just female athletes? We all work really hard. We just want to be known as just athletes.
Q. Are you going to luxuriate at 22 or are you already focusing at 25?
SERENA WILLIAMS: Oh, God, no. One thing I learned about last year is to enjoy the moment. I'm definitely going to enjoy this.
You know, I have the Olympics coming up. I'll take it one at a time.
Q. I saw you after you won throw up your fists. Was that in lieu of everything that's going on back home in the U.S.?
SERENA WILLIAMS: I don't recall throwing up my fist.
Q. After you finished your season last year, you made a statement, I've been playing with many injuries, even with a broken heart. Has the broken heart finally healed today?
SERENA WILLIAMS: Yeah, I guess. Obviously, I would have liked to have won other matches. But it's okay. One at a time.
Q. Did you learn anything specific from the finals in Melbourne and Paris that helped you prepare for today and help you get off to a good start, better than in those matches?
SERENA WILLIAMS: I think in Melbourne I learned a lot in terms of how to play. In Paris, it was just a lot of stress for that moment, for whatever reason.
Yeah, so I just learned to just be better. I also learned that you can't win everything, even though I try really hard. I do the best that I can. I still am not going to be perfect.
Q. You mentioned in here the other day when you were talking about your sister, you didn't really have a life. Speak about some of the sacrifices you made in life to get to where you are today as a tennis player.
SERENA WILLIAMS: I think as an athlete, you have to make a lot of sacrifices. Every day, like even if I want to hang out with my friends, I have to think, Oh, I have to go to practice at 8:00 in the morning, I have to do this, I have to train. That's still every day of my life.
Those sacrifices that you put in every single day eventually pay off.
Q. As a woman, who is Serena Williams? How would you answer that question?
SERENA WILLIAMS: What question?
Q. Who is Serena Williams as a woman, not just as a tennis player?
SERENA WILLIAMS: I think I'm a really good friend. I'm really caring. I'm very, very emotional. I'm really giving.
Q. You're now 22 6 in major finals. What are the qualities you think you have that make you such a good closer? How were they evident today?
SERENA WILLIAMS: Well, I think the qualities is just the ability to turn up my level and turn up my game when I need to in crunch time. I think I was able to do that today.
Q. Are you aware that now we will all start talking about 24 slams of Margaret Court, nine Wimbledons of Martina Navratilova? Is that a worry?
SERENA WILLIAMS: No, not for me. I've learned a lot about 22 (smiling). I learned not to get involved in those debates and conversations. I just learned to just play tennis. That's what I do best.
Q. She finally gets to a breakpoint in the second set. You step up and nail down two aces. Were you feeling it right from the start? Did you work on the serve particularly in the past day?
SERENA WILLIAMS: I feel like my serve has been really good since, I don't know, the third or fourth round. I felt like today I knew, with the conditions, it would be better if I served great because it was really windy out there.
Once I got down that breakpoint, I just knew that, you know, it was her first breakpoint, and I wasn't going to let it go on the very first one, at least. I wanted to hit an ace (laughter).
Q. When you tumbled back, was that in elation of winning the match, or shaking off the pressure of trying to get the Grand Slam after the three misses?
SERENA WILLIAMS: I think it was definitely both. Definitely so excited to win Wimbledon. You know, that's always a great feeling. But maybe even more so is the excitement of getting 22, you know, trying so hard to get there, finally being able to match history, which is pretty awesome.
Q. The Vinci match a long time ago, it sort of changed everything. Everybody was talking Grand Slam. She beat you. Did that shake you a little bit?
SERENA WILLIAMS: I don't know. I don't think it shook me. I mean, I think if I did, I wouldn't have been able to do well in Australia or the French Open. I mean, even though I didn't win those tournaments, it was just the very next tournament I played, I was in the final, I was fighting. Then I was in the final again.
I think, if anything, I was able to show resilience that, no, that's not going to shake me, you're not going to break me, it's going to make me stronger.
Q. We are here celebrating you as champion. What's going on right now in the States is huge. I was wondering if you took the time to follow what happened in Dallas?
SERENA WILLIAMS: Yeah, absolutely. I feel anyone in my color in particular is of concern. I do have nephews that I'm thinking, Do I have to call them and tell them, Don't go outside. If you get in your car, it might be the last time I see you.
That is something that I think is of great concern because it will be devastating. They're very good kids. I don't think that the answer is to continue to shoot our young black men in the United States. It's just unfortunate. Or just black people in general.
Also obviously violence is not the answer of solving it. The shooting in Dallas was very sad. No one deserves to lose their life, doesn't matter what color they are, where they're from. We're all human. We have to learn that we have to love one another. It's going to take a lot of education and a lot of work, I think, to get to that point.
But I think, in general, the entire situation is extremely sad, especially for someone like me. It's something that is very painful to see happening.
Q. You talked at the start about finding that mindset. How easy does that get because it's Wimbledon, almost that comfort blanket of Centre Court that you love so much?
SERENA WILLIAMS: I think for the first time, one of the first times, it felt good, because I knew I was serving well. I felt at home. I can't really say that often because, I don't know, I just really felt really at home with the crowd, with just being there. I just felt really comfortable.
Q. Patrick was telling us you hadn't been yourself, but now he could tell the whole tournament you were back to yourself. Is that a fair description? Did you feel you weren't yourself earlier in the year? When did it change for you?
SERENA WILLIAMS: Yeah, he's been telling me that for a while. I think sometime after the French Open, we were talking, talking about things and strategizing. He just said, You're back. I guess he was right.
Q. In your last three losses, you showed incredible dignity on the court. How important was it for you to be that kind of person? Do you think that contributes to who you are as a champion?
SERENA WILLIAMS: Well, I think it's definitely important, but it's just more or less who I've become and who I am. Definitely being genuinely happy at that moment for the people that I lost to.
I always said, and I'll say it again, for me the success of another female in particular should be the inspiration to the next.
I just felt like, if anything, these ladies inspire me to want to do better. Why would I be jealous of them? I have so many titles, so many Grand Slams, so many things that I'm proud of. I just feel honored that, you know, I'm welcoming them to this unique position with open arms.
Q. Do you remember the 22 individual detailed experiences or.
SERENA WILLIAMS: There's definitely some blurs between eight, nine and ten. I don't even know where eight, nine and ten was or when. I definitely don't remember where 12 was. I remember one and two. I remember one through four. Gets really blurry after that (laughter).
Q. The title, would you be able to place this one?
SERENA WILLIAMS: I will be able to definitely place this one. And 18. I struggled a little with 18. I can remember that one, too.
Q. There was a program about you on the television this week in this country. What prompted you to chart what has been quite a difficult year? Did you have any regrets at any stage about inviting the cameras in in quite an intimate way into your life?
SERENA WILLIAMS: That was my documentary called 'Serena'. I thought it was a great moment for people to see a little bit behind the scenes of what I go through as an individual, and probably a lot of other professional tennis players.
I thought it was a wonderful time, and ironically great timing. I couldn't have scripted it any better. Maybe I could have towards the end, but.
It was just this incredible journey of winning Grand Slams, training, everyday work, life, things that I do as well.
I thought it was a wonderful, wonderful piece. Yeah, it was great.
Q. 22 Grand Slams are great for you. Is winning Olympic gold for your country up a level? Is it the ultimate goal?
SERENA WILLIAMS: I've won gold. I love gold. Not to knock the Olympics. I mean, for me, if I kept one trophy, I would probably grab my gold medals. But right now I am probably focused a little more on the slams, or at least I was with getting to 22. Now I feel like, you know, everything else will be pretty good.