Ruth s Chris Steak House - DoubleTree Jacksonville Restaurant - Jacksonville, FL, OpenTable
OpenTable
Home
United States
Jacksonville / Northeast Florida
Jacksonville
Jacksonville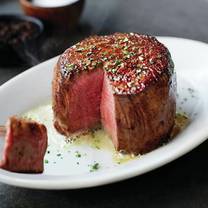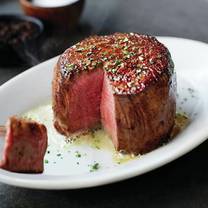 Ruth's Chris Steak House - DoubleTree Jacksonville
Steakhouse
Jacksonville
$31 to $50
Nearby points of interest
Make a reservation
Nearby points of interest
About Ruth's Chris Steak House - DoubleTree Jacksonville
Looking for a reservation? Call us at (904) 396-6200 and we will do our best to accommodate you.
Doubletree by Hilton Hotel
Jacksonville, FL 32207
Steakhouse, Steak, Seafood
Hours of Operation:
Dinner: Monday - Thursday: 5:00pm - 10:00pm, Friday - Saturday: 5:00pm - 10:30pm, Sunday: 5:00pm - 9:00pm
AMEX, Carte Blanche, Diners Club, Discover, JCB, MasterCard, Visa
Ruth's Catering in Jacksonville, FL - Bring the service, expertise and flavor of Ruth's Chris Steak House to the location of your choice! Your Private Event Manager is ready to help attend to every detail of your event, from the menu to the martinis. Ruth's will bring in a team of trained chefs, bartenders and servers to make the most of your experience.
Free self-parking with validation. Valet parking available at hotel entrance for $6.00 fee.
Banquet, Bar Dining, Bar/Lounge, Beer, BYO Wine, Corkage Fee, Counter Seating, Full Bar, Gluten-free Menu, Happy Hour, Non-Smoking, Outdoor dining, Private Room, View, Wheelchair Access, Wine
Restaurant Photos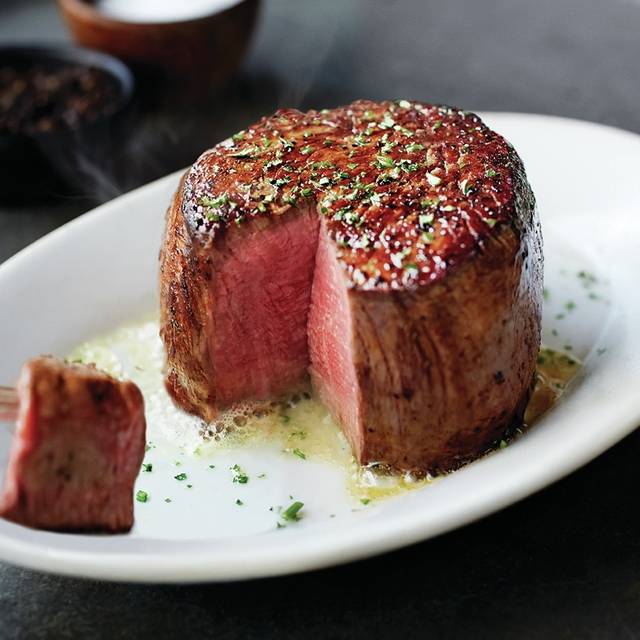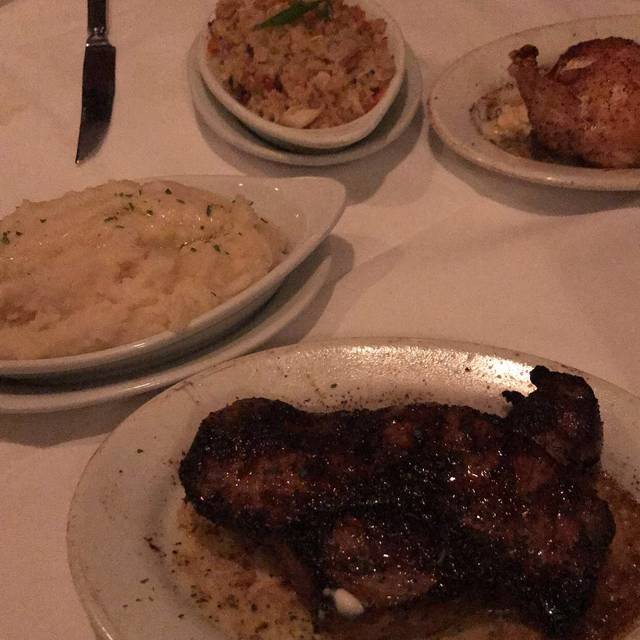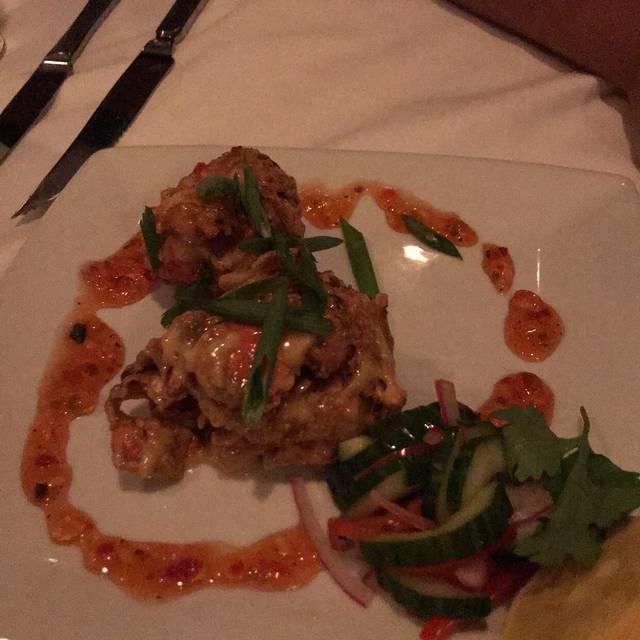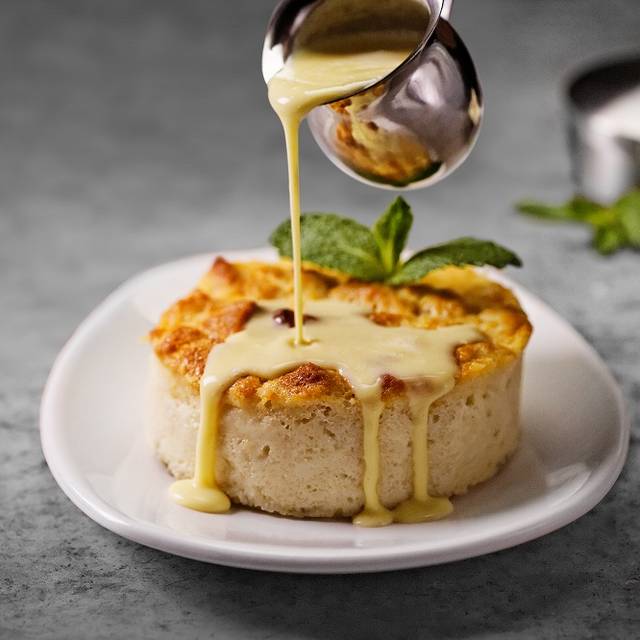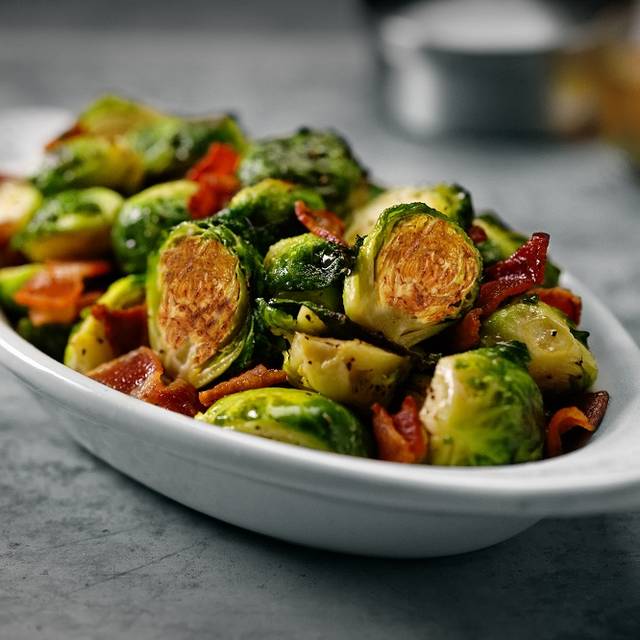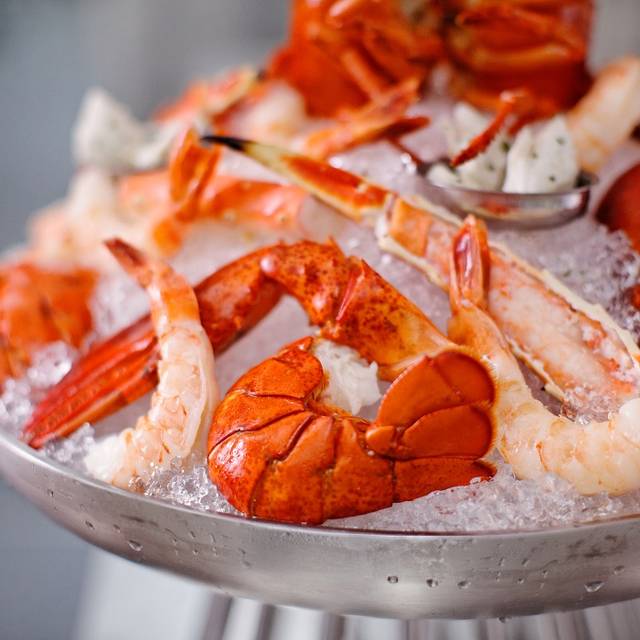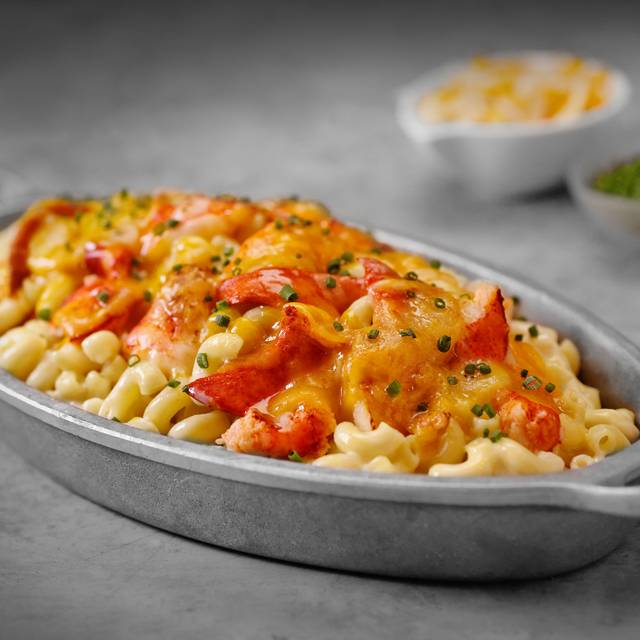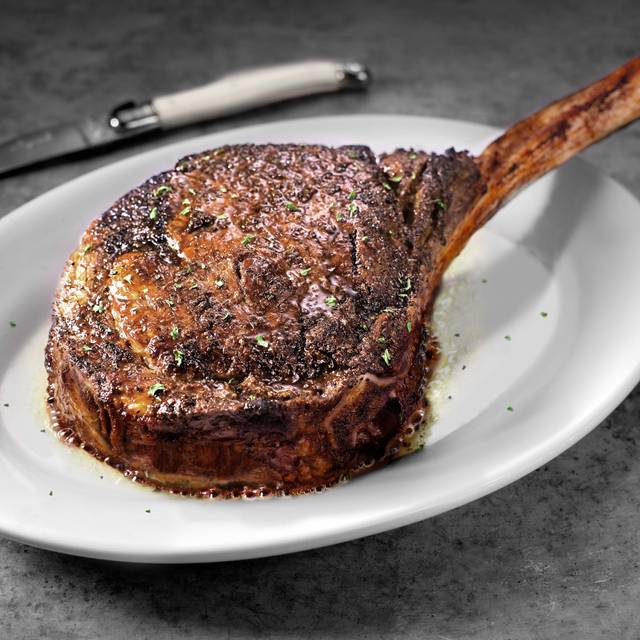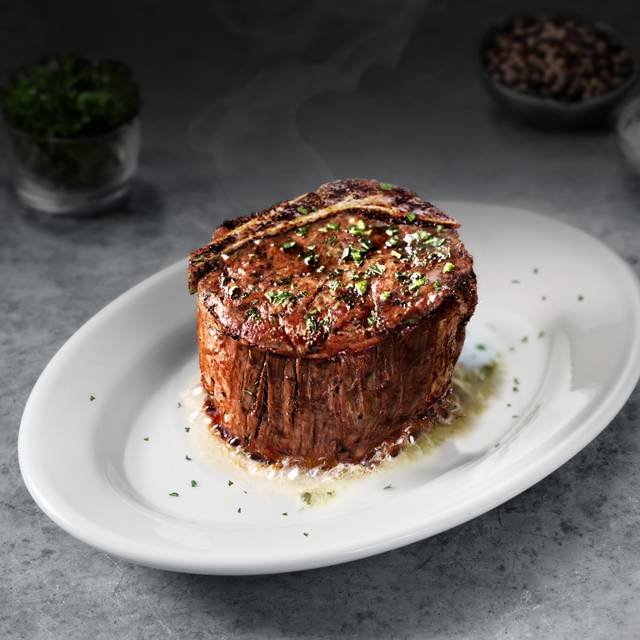 Report a photo problem
Appetizers
Complemented by a spirited sauce with hints of mustard and beer
Large shrimp sautéed in reduced white wine, butter, garlic and spices
Broiled, topped with romano cheese
Cold water lobster tail, lightly fried, tossed in a spicy cream sauce, jalapeno pepper jam drizzle, tangy cucumber salad
Maine lobster, alaskan king crab legs, jumbo shrimp, colossal lump blue crab
Succulent large shrimp, lightly fried, tossed in a spicy cream sauce, served with a tangy cucumber salad
Two jumbo lump crab cakes with sizzling lemon butter
Colossal lump blue crab, avocado, mango, cucumber
Lightly fried, with sweet and spicy asian chili sauce
Saffron-infused pasta with sautéed baby spinach and white wine demi-glace
Chilled jumbo shrimp, choice of creole remoulade sauce or new orleans-style cocktail sauce
Salads & Soups
All of our dressings are made fresh, using our exclusive recipes. Choose from: bleu cheese, balsamic vinaigrette, creamy lemon basil, ranch, thousand island, remoulade, and vinaigrette
Fresh romaine hearts, romano cheese, creamy caesar dressing, shaved parmesan and fresh ground black pepper
Crisp iceberg, field greens, bacon, bleu cheese and choice of dressing
Locally sources heirloom tomatoes, fresh basil, aged balsamic glaze, extra virgin olive oil
Our original, julienne iceberg lettuce, baby spinach, radicchio, red onions, mushrooms, green olives, bacon, eggs, hearts of palm, croutons, bleu cheese, lemon basil dressing, crispy onions
Iceberg, baby arugula, baby lettuces, grape tomatoes, garlic croutons, red onions
Mixed greens, roasted corn, dried cherries, bacon, tomatoes, white balsamic vinaigrette, goat cheese, cajun pecans and crispy onions
Signature Steaks & Chops
USDA prime, full bodied 16 oz cut, slightly firmer than a ribeye
Full-flavored 24 oz USDA prime cut
Three extra thick chops, marinated overnight, with fresh mint
USDA prime 12 oz cut, well marbled for peak flavor, deliciously juicy
USDA prime 16 oz cut, well marbled for peak flavor, deliciously juicy
Tender corn-fed midwestern beef, 11 oz cut
Equally tender 8 oz filet
Bone-in 22 oz USDA prime cut
Two 4 oz medallions with large shrimp
Rich flavor of a strip, tenderness of a filet, 40 oz USDA prime cut
Specialty Cuts
An incredibly tender 16 oz bone-in cut at the peak of flavor
USDA prime, full-bodied 19 oz bone-in cut, our founder's favorite
USDA prime bone-in 40 oz ribeye, well-marbled for peak flavor
Entrée Complements
Six additional large shrimp
Crab cake, asparagus and béarnaise sauce
Black truffle butter, shiitake demi-glace, honey soy glaze
Bleu cheese, roasted garlic and a touch of panko bread crumbs
Seafood & Specialties
Oven roasted free-range double chicken breast, garlic herb cheese, lemon butter
Three jumbo lump crab cakes with sizzling lemon butter
Pan roasted, citrus-coconut butter, sweet potato and pineapple hash
Large shrimp sautéed in reduced white wine, butter, garlic and spices on a bed of roasted garlic mashed potatoes
Ask your server for details
Potatoes & Signature Sides
Idaho sliced potatoes with a three cheese sauce
One lb, fully loaded
With a hint of roasted garlic
Extra thin and crispy
With pecan crust
Tender lobster, three cheese blend, mild green-chiles
Vegetables
A ruth's classic
Bacon, honey butter
Hand-cut fresh from the cob, diced jalapeño
Pan-roasted, fresh thyme
*Items are served raw, or undercooked, or may contain raw or undercooked ingredients. Consuming raw or undercooked meats, poultry, seafood, shellfish or eggs may increase your risk of food-borne illness
Happy Hour
sizzle, swizzle & swirl happy hour available at the bar. Times vary per location.
usda prime burger
honey-soy marinated skewers, spring greens, mushrooms, caramelized onions, bleu cheese crumbles
grilled garlic bread, roasted red pepper ranch
sliced filet prepared with béarnaise sauce
slices of seared ahi tuna perfectly complemented by a spirited sauce
lightly fried and tossed in a spicy cream sauce
Swizzle & Swirl
smirnoff, cointreau, pomegranate, cranberry juice, sugar rim
jim beam bourbon, noilly prat sweet vermouth, southern comfort, italian amerena cherry
smirnoff vodka, triple sec, fresh lime juice, cranberry juice
bombay gin, domaine de canton ginger liqueur, fresh rosemary, splash of tonic
Sparkling Wines and Champagne
White / Rosé Wines
Champagne & Sparkling
Pinot Noir
Cabernet Sauvignon
Proprietary Blends
Zinfandel
Syrah / Petit Sirah
Chardonnay
Sauvignon Blanc / Pinot Grigio / Pinot Gris
World Class Whites and Rosés
France, Burgundy
France, Bordeaux
France, Rhône
France, Loire / Alsace
Italy
Spain / Portugal
Australia / New Zealand / South Africa
Argentina / Chile
Dessert Wines / Port / Sherry
2016 Hand - Crafted Cocktail
the botanist gin, st. germain elderflower liqueur, la marca prosecco, lemon
absoult elyx, st. germain elderflower liqueur, green chartreuse, lime juice
absolut raspberri vodka, cointreau, fresh lime juice, cranberry juice, muddled raspberries, fresh rosemary
don julio blanco tequila, hibiscus tea, grapefruit juice, cinnamon syrup, house-made grenadine, fresh lime juice
woodford reserve, house-made chai tea syrup, fresh lemon juice, red wine float
belvedere pink grapefruit vodka, st. germain elderflower liqueur, fresh ruby red grapefruit & lime juices
absolut vodka, stoli ginger beer, fresh lime juice, simple syrup
Cruzan aged light rum, fresh lime juice, muddled blueberries, fresh mint leaves
Remy martin vsop cognac, cointreau, fresh lemon juice, muddled blackberries, fee bros. Plum bitters
aviation gin, luxardo maraschino liqueur, creme de violette, fresh lemon juice
johnnie walker black, house-made earl grey syrup, fresh lemon juice
ketel one citroen vodka, ciroc coconut vodka, domaine de canton ginger liqueur, house-made ginger-infused syrup, fresh lemon juice, candied ginger
Grey goose vodka, noilly prat "original" dry vermouth, olive juice, hand stuffed colossal bleu cheese olives
hendrick's gin, st. germain elderflower liqueur, fresh lime juice, muddled cucumber, fresh basil leaves
hangar 1 vodka, ketel one citroen vodka, fresh lime juice, muddled cucumber, fresh basil leaves
the irishman founder's reserve irish whiskey, angostura bitters, orange slice, amarena black cherry
Bombay gin, domaine de canton ginger liqueur, fresh rosemary, splash of tonic
Ruth's Chris Steak House - DoubleTree Jacksonville Ratings and Reviews
Overall Rating
ambience
Noise
We loved the steaks. Kevin was an excellent waiter. He was professional and friendly. He attended to the smallest of details. He never interrupted us once and yet took care to address our every need which is the mark of an excellent waiter. We had a great time.
Was Me and My wife's 22nd Anniversary.We had a great time and we will be dining there again in the near future.
Great for business dinner. Quality as expected from stand alone restaurant.
Top notch food and service!
Thoroughly enjoyed my visit to Ruth's Chris with my friend. Cody our waiter was very efficient and friendly. The food, as usual, was fantastic.
My experience at Ruth's Chris was quite simply the best meal experience I have ever encountered. I understand how incredible aged beef is and the techniques employed by the culinary staff are an experience that everyone should enjoy whenever they have the ways and means to do so. If you love eating steak, you must experence it, save up and go.
It's always a great getaway to go and be pampered at Ruth's Chris. Our waiter and his support staff were excellent as usual. The food was great.
When we entered the restaurant the girl at the reception table was not friendly. Without even a slight smile she just asked, "Are you here to check in. name. be right with you." She had the same expressionless look for other groups entering after us. It felt robotic and gave my wife and I the impression she didn't want us to be there. For the amount of money we spent for the evening, I would have at least appreciated a greeter that made us feel as if YOU appreciated us being there!
Richard our server was outstanding, each course came out well staged and ambiance was great.
They are the best for birthdays and anniversaries!
Derek is the best waiter/server/host in Jacksonville. He makes you feel like you're his only customers. The food is always consistent, the ambience and downtown Jax location can't be beat, and it's our go-to place for every important meal, whether personal or business.
Great as always
My husband and I went to celebrate our 19th wedding anniversary. He ordered the petite filet with a lobster tail and I ordered the BBQ Shrimp. Everything was cooked to perfection. Our server, Anthony even set rose petals and gave us a card with all the servers signatures. It was sweet.
Eric and his Team have always and continue to a fabulous job! Best Ruth's Chris in the SE region!
Have gone to this Ruth's many times. We were disappointed in the food preparation and service.
Lovely view and setting. Slightly disappointed with filet - cooked beyond medium rare as requested. Very professional service - attentive but not overbearing.
Celebrating my daughter's birthday.
Exceptional service and meal. We've eaten at this location many times, and we are always extremely pleased with our experience. The servers are great and really make the meal that much better. Be sure to make reservations for Friday and Saturday nights!
We had an awesome time. I took my friend there for her birthday. She said it was the best birthday ever. Thanks, Ruth Chris.
Food was very good, the wait time wasn't very long fornthe meals.
We had a wonderful evening celebrating our anniversary. The restaurant was packed but our waiter Blair took very good care of us. The food was delicious as always and our request for seating was just what we had hoped for.
Professional wait staff and great food. Nice views too!
Asked for medium steak and it was burnt more than well done. Our server was very helpful and he was the only good part. I would suggest 3 Forks restaurant if you are going to spend thia much for dinner. Ruth's Chris has now fallen victim to the food-chain industry. Very disappointed. The cut of meat was also just average.
Party of 4 - One party sent back the fish (sea bass) which was overcooked twice. The other parties enjoyed the meal and the customary good service.
We were celebrating our wedding anniversary, so our table was festively decorated. Our waiter took our picture and gave it to us in a card frame. Never had that before. We had a great window table with a view of the river. The best cocktails and the food is always delicious. Due to several large parties our entre was a little slow coming out. Highly unusual, and it won't keep me from coming back.
The large party next to us kind of put a damper on what was otherwise a wonderful anniversary dinner. I was very disappointed that people would be so obnoxiously loud in a quiet, fine dining restaurant. I should have asked to move but more importantly, maybe our waiter should have suggested that to us.
They also should get a better dessert menu. They don't offer much and what the do offer isn't good at all.
Les our waiter made our 33rd anniversary dinner very special. Rose petals on the table, great wine and excellent food. Could not have been a more lovely evening.
It was very nice a littte more than i like to spend but for a special occasion not bad
The table service, food and bar were outstanding. The best classic sidecar I've ever had.
The hostess and the maître d were not so great. The hostess was sure to inform us upon arrival at 9:45 that the kitchen was closing in 15 minutes BUT she could seat us. The maître d, just not friendly and not capable of a smile. Dined there twice over the past weekend 9:45 one night and 6:30 another night. Same attitudes. The wait staff, fantastic, the food, wonderful and consistent as usual and the bar, out of the park! Front of the house could use some work.
The petite steak and shrimp was absolutely delicious! Cooked exactly as I requested and seasoned to perfection.
Took my mother for a special dinner before a theatre event. Perfect as always.
My parents were super happy with the excellent service it made their anniversary dinner outstanding so much they want to go back! Thank you so much for making my parents night so special!
Food was exceptional. Jeremy did a fantastic job again.
Our waitress was exceptional - her focus on our needs and prompt attention to attention and timely service was impeccable. She made the special evening even more memorable.
Food and service were great. Always is at Ruth's Chris.
We have been here twice. Both times we had amazing service and food to match. Every single thing we ordered, it exceeded our expectations. The staff is VERY friendly and courteous. The same waiter served us this time as the first time. He even remembered what booth we sat at the very first time, 3 years ago.
Becoming to chain like. No attention to detail as before. Food disappoints.
Probably find another special occasion destination.
We had an amazing meal and everyone there helped to make our 25th Wedding Anniversary a wonderful one!
Please sign in to record your input. Thanks!
Report this review as inappropriate?
If you believe this review should be removed from OpenTable, please let us know and someone will investigate.
What are premium access reservations?
We teamed up with popular restaurants to save you a spot when the house is filled. Redeem OpenTable Dining Points for in-demand tables, set aside for you.
How can I earn points?
You can earn points when you book and dine using the OpenTable app or OpenTable.com. Standard qualifying reservations are worth 100 points, and specially marked reservations are worth up to 1,000 points–10x the regular amount of points!
What can I get with points?
Points are redeemable for Premium Access reservations at select restaurants, Dining Reward Gifts or Amazon gift cards.
OpenTable
Restaurateurs
Join us on
Copyright © 2017 OpenTable, Inc. 1 Montgomery St Ste 700, San Francisco CA 94104 - All rights reserved.