Other articles
West Ham: Premier League Preview 2017
West Ham: Premier League Preview
West Ham come into this campaign on the back of a disappointing season overall, finishing in 11th place.
The move to the London Stadium was disastrous in terms of results, with West Ham crashing out of the top ten and Europe.
Despite an excellent first season in charge, Bilic's side struggled throughout the season for any consistency.
Their defence was their biggest weakness, with the likes of Winston Reid failing to reach the heights of last season.
West Ham have made some significant signings to bolster the squad, their recruitment campaign has been impressive.
Their main aim will be to progress back up the table and remain in contention for a trophy.
Premier League
West Ham's opening fixture of this brand new Premier League campaign is against Manchester United on Sunday 13th August, at Old Trafford.
Their next four fixtures are:
Southampton (A) 19th August
Newcastle (A) 27th August
Huddersfield (H) 11th September
West Brom (A) 16th September
This is a mixed set of opening fixtures for the Hammers, with United away a tough opening assignment.
The remaining fixtures are winnable although four of their opening five matches are away due to the London Stadium failing to be ready.
They are games that West Ham will be targeting to win, if they can get some good results away from home this will set them up nicely for the rest of the season.
West Ham registered 12 wins during their last campaign ending the season with 45 points, goal difference separating them and West Brom in 10th.
This season was a big disappointment on the 2015/16 campaign, where they won 16 matches and registered 62 points, and finished in 7th place.
That was an excellent season for the Hammers, with Dimitri Payet the main star for the Hammers, producing some excellent free kicks.
Cup Football
As well as improving their position in the Premier League, West Ham will be looking for a successful cup run.
They had a mixed record in both cups last season, losing to Manchester United in the EFL Cup.
They also exited the FA Cup after being hammered by Manchester City, with Guardiola's side beating them 5-0.
This is an area that the club will have identified to move forward, securing a trophy will be a major part of Slaven Bilic's plans this season.
Transfer Activity
West Ham have been highly impressive in the transfer market, given the level of displays last season it was needed.
Their main area of weakness was the defensive areas and they have yet to really address that.
The main story of their summer has been the transfer cloud hanging over Marko Arnautovic, with the Austrian finally completing his move to West Ham.
They have also signed three exceptional players in Joe Hart, Pablo Zabaleta and Javier Hernandez, who have all won Premier League titles.
Transfers In: Marko Arnautovic (Stoke City), Javier Hernandez (Bayer Leverkusen), Pablo Zabaleta (Manchester City) and Joe Hart (Manchester City).
Transfers Out: Ashley Fletcher (Middlesbrough), Stephen Hendrie (Southend United), Havard Nordtveit (Hoffenheim), Darren Randolph (Middlesbrough) and Enner Valencia (Tigres).
One To Watch
Javier Hernandez is the one to watch for West Ham this season.
The former Manchester United man has an excellent CV and is a striker with vast levels of Premier League experience.
They also had some trouble in the forward areas as well, Hernandez is more than capable of scoring 15-20 goals a season.
It will be very intriguing to see how he goes in his first full season as a West Ham player.even at United he wasn't the main striker so it will be fascinating to see how many goals he can score.
Even at United he wasn't the main striker so it will be fascinating to see how many goals he can score.
Betting Tips
To win the 17/18 Premier League outright @ 500/1
A Top Ten Finish @ 13/8
To win the Carabao Cup 17/18 @ 28/1
To win the FA Cup 17/18 @ 33/1
RELATED ARTICLESMORE FROM AUTHOR
Newcastle vs Liverpool Betting Preview, Premier League Betting Tips
Everton vs Burnley Betting Preview, Premier League Betting Tips
Arsenal vs Brighton Betting Preview, Premier League Betting Tips
£200 Deposit Match
£100 Free Bet Bonus
Bet £10 get £20 in Free Bets
£50 Plus free spins
£75 Deposit Bonus
Bet £10 get £30 in Free Bets
POPULAR POSTS
The Open Championship Betting Approach and Best Offers
Bet on Brazil
England vs Iceland Betting Preview, Euro 2016 Betting Tips
POPULAR CATEGORY
Betting Tips Plus Cookies Policy
Our Website uses cookies to improve your experience. Please visit our Home page for more information about cookies and how we use them.
Seven intriguing bets for the new Premier League season
Seven intriguing bets for the new Premier League season
Seven intriguing bets for the new Premier League season
Daniel Storey has had a little bet on the new Premier League season, and thought he would share his thoughts. Prices correct at time of writing…
Kevin de Bruyne to be PFA Player of the Year – 16/1 (various)
I actually got De Bruyne at 20/1 last week, but at 16s I still think he represents decent value. The simple fact is that there are six players available at a shorter price to be PFA Player of the Year, and I don't think there are six better players.
The Player of the Year award has been won by a title winner in each of the last three seasons, which is enough for me to ignore players from Tottenham at shorter prices than De Bruyne. It hasn't been won by a player in his first season in England at any point during the Premier League era, which is enough for me to ignore Alvaro Morata at a shorter price too. That leaves Eden Hazard, Alexis Sanchez and Paul Pogba, with one of those struggling with injury and another potentially leaving before September.
Pogba is a great price at 8/1, but De Bruyne is potentially the best player in potentially the best team. He got more assists than any other player last season, and is the only member of Manchester City's front five who is truly guaranteed their starting place.
Manchester City, Manchester United and Chelsea to be the top three in that order – 25/1 (Bet365)
Very much a question of picking your weapon here, but I do like the tricast market and Bet 365 have better odds almost across the board. The outright winner market has the two Manchester clubs and Chelsea significantly shorter than the rest, with City now clear favourites.
The trouble is, City are 15/8 and so offer little value even if you think they will lift the title. Those of you who believe they will win can increase those odds ten-fold by picking United to finish second and Chelsea third. Swap those two round for 28/1, and if you fancy United to finish above City and Chelsea third, you can get 33s.
Manchester United to be top at the end of August – 16/5 (Paddy Power)
An interesting market offered by only a few bookmakers is for the team to be top of the table at the end of August, which is intriguing because each team actually only plays three matches before September.
I like the odds of better than 3/1 on Manchester United to win that market, given their opening fixtures of West Ham at home, Swansea away and Leicester at home. Their closest challengers in the betting are Manchester City (actually at the same price), but City's three fixtures of Brighton (a), Everton (h) and Bournemouth (a) are surely harder than United's. Starting the season at home is also preferential.
Next come Liverpool, who surely have enough on their plates with the two games against Hoffenheim to qualify for the Champions League and face Arsenal in August, while Tottenham are next but may take time to settle into Wembley stadium and face Chelsea on the second weekend. That fixture is enough for me to stay away from Chelsea too, because it is likely that the winner of the market will need to win their first three matches.
Bizarrely, the only other club I would consider are Southampton at 14/1. They have Swansea (h), West Ham (h) and Huddersfield (a) as their first three games.
Mark Hughes first manager to leave their post – 4/1 (various)
Four managers are available at shorter than 10/1 odds: Craig Shakespeare, Slaven Bilic, Rafael Benitez and Hughes. Of those four, I have no interest in Shakespeare and have just picked West Ham to finish eighth. That leaves Benitez and Hughes, the first and second favourites in the market at 4/1.
There are reasons to go for Benitez, but only from his point of view rather than the club's. Should Mike Ashley back him in the final weeks of the window then all may be well again, so I'm happy to give him a miss.
That leaves Hughes, who has only beaten West Ham, Stevenage, Sunderland, Hull, Swansea, Watford, Burnley, Crystal Palace, Middlesbrough and Southampton in all competitions in the last 16 months, and is quickly losing goodwill at Stoke. All I'm saying is that their first three home games are against Arsenal, Manchester United and Chelsea, and it's not until December 2 until they play a home game against a team who finished below them last season.
West Ham to win the league (without the 'big seven') – 5/1 (Betway)
I picked Leicester to finish eighth in my season preview, so you would think that I can't back down now. Still, I've always been a weasel and a quitter.
The 'win without the big seven' market allows for the fact that bookmakers expect Everton to again be caught in their league of one, and could be one of those season bets that actually keeps you interested into the new year. Leicester are actually the second favourites behind Southampton, with West Ham the only other club under 15/2. Next come Stoke, Bournemouth, Crystal Palace and Newcastle in that order, which I have no interest in whatsoever.
It's either West Ham at 5/1 or Leicester at 7/2, and on the prices I have to go West Ham. Since the start of 2017 they have added Robert Snodgrass, Jose Fonte, Joe Hart, Pablo Zabaleta, Marko Arnautovic and Javier Hernandez to the squad. If Hernandez can fire, betting at one-in-six odds to finish on top of the mid-table pack looks generous.
Alexandre Lacazette to be the Premier League's top scorer – 12/1 (various)
All bookmakers are offering quarter odds for four places each way on the top Premier League scorer, so I'm tempted enough to look for a longer price than the 3/1 on Harry Kane and 4/1 on Romelu Lukaku. Two Manchester City players come next in the betting, but the possible rotation between them makes me uneasy. The only other player shorter than Lacazette is Alvaro Morata, but he may well take time to settle into Antonio Conte's system and demands.
With that in mind, I'm going for Lacazette at 12/1. Olivier Giroud scored 12 goals in fewer than 1,200 minutes last season, so we know Arsenal strikers will get chances to score. It also seems likely that Lacazette will take over penalty duties, and will receive some of the best service in the league. Even if Sanchez stays – having scored 24 times last season – he will allow Lacazette to take some of the burden for scoring Arsenal's goals from his shoulders.
Since 2010, you have needed to score an average of 18 goals in order to finish in the top four scorers in the Premier League (and thus earn the each way odds). Effectively betting on Lacazette at better than 2/1 to do that, with the bonus if he is top scorer, is good enough for me.
Brighton to finish bottom – 8/1 (Blacktype)
I'm not convinced that Brighton will finish bottom of the Premier League, but at the odds offered I can't ignore them. Even if you consider it as nip and tuck between Brighton and Huddersfield, one is priced as short as 7/4 and the other 8/1. Given Huddersfield's spending and Brighton's comparatively quiet window, that seems odd.
In fact the 8/1 on Brighton is longer than some bookmakers are offering on Burnley, Watford and Swansea to finish bottom, which again seems odd. Brighton are in their first top-flight season and are largely sticking with their Championship squad.
2017-18 Premier League Week 4 Betting Preview, Sports Insights
2017-18 Premier League Week 4 Betting Preview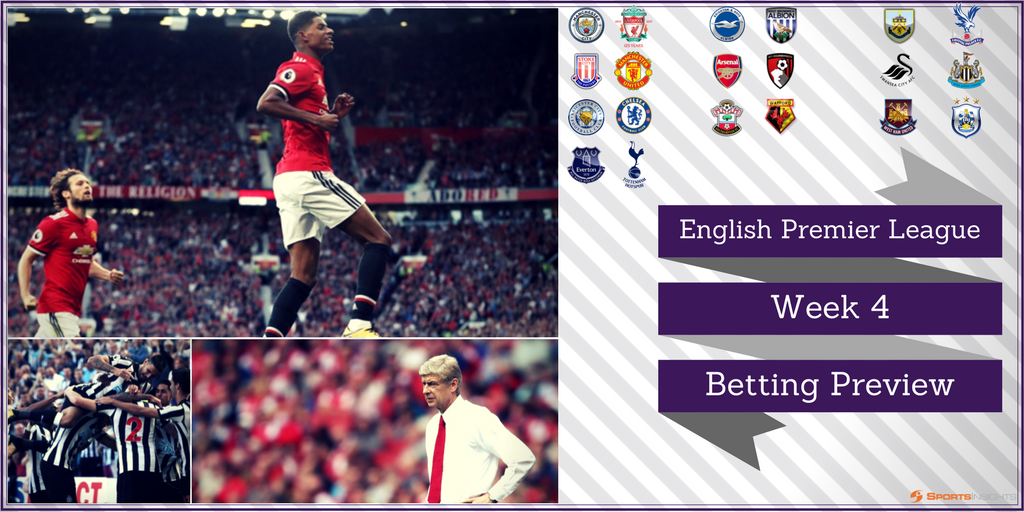 2017-18 Premier League Week 4 Betting Preview
The International break couldn't have come at a worse time for our value plays as they went 3-1 for +4.95 units in Week 3. Both draws hit (WBA/Stoke, Watford/Brighton) while Newcastle throttled West Ham, and our only loss was Southampton failing to beat Huddersfield.
In other Week 3 action, Man City escaped with a 2-1 victory at Bournemouth in the 7th minute of stoppage time, Liverpool thumped Arsenal 4-0 at home, Burnley scored late to tie Tottenham 1-1, and Man United kept rolling to their third straight victory.
Home 4 of 10 (-2.67 units)
Away 2 of 10 (-4.64 units)
Draw 4 of 10 (+7.12 units)
Tottenham/Burnley Draw (opened +514, closed +625)
Swansea (opened +348 to +309) at Crystal Palace
Home 13 of 30 (-3.36 units)
Away 10 of 30 (+8.22 units)
Draw 7 of 30 (+1.87 units)
Burnley (opened +1450, closed +1125) at Chelsea in Week 1
Tottenham/Burnley Draw (opened +514, closed +625) in Week 3
Everton/Man City Draw (opened +466, closed +515) in Week 2
The big match for Week 4 is Manchester City hosting Liverpool, where the home side has moved from -104 to -114 to win. However, the public is all over Liverpool, getting more than 60% of tickets around the market. Bettors probably have the most recent results on their mind, as Man City escaped 2-1 at Bournemouth and Liverpool trounced Arsenal 4-0. The big odds on Liverpool are very enticing for casual bettors, but this is a great opportunity to fade a very trendy dog, so I like the value on Manchester City -114.
Unfortunately that's the only play I like enough to bet this weekend. I've been leaning toward Newcastle and Crystal Palace to win, but the public is fairly heavy on both sides. I'm also intrigued by Southampton at -150 vs. Watford, only getting 15% of moneyline tickets, so that's a line to keep an eye on this weekend. Seems like the public really likes the dogs this weekend.
Most Lopsided: 83% on West Brom (+205) vs. Brighton, 78% on Tottenham (+112) vs. Everton
Biggest Line Moves: Man City (-104 to -114) vs. Liverpool, Huddersfield/West Ham Draw (+263 to +246)
Value Plays (4-3 record, +4.34 units, 62% ROI): Manchester City -114
As always, Premium and Pro members can track all the latest line moves, public betting percentages and more.

Dan McGuire
Dan McGuire is the Operations Manager and soccer specialist at Sports Insights. He can be reached at dan.mcguire@sportsinsights.com.
Related Posts
2017-18 Premier League Week 9 Betting Preview
Last week didn't go.
Longshot Value on Next USMNT Manager?
Whether you're a soccer.
2017-18 Premier League Week 8 Betting Preview
Another International Break meant.
No Comments
Post a Comment Cancel Reply
Recent Posts
Get our Newsletter
Subscribe to get our newsletter showcasing our best stuff. You'll get at least one a week.
All information © Copyright 2017 Sports Insights, Inc., part of The Action Network, All Rights Reserved.
Premier League 2017 -2018 Stadium
premier league betting 2018/13 intrigue
Premier League 2017 -2018 Stadium
20. Dean Court AFC Bournemouth 11,464
19.Liberty Stadium Swansea City 20,972
18.Turf Moor Burnley FC 21,401
17.Vicarage Road Watford FC 21,977
16. John Smith's Stadium Huddersfield Town FC 24,500
15.Selhurst Park Crystal Palace 26,309
14.The Hawthorns West Bromwich Albion 26,500
13.bet365 Stadium Stoke City 27,902
12.Falmer Stadium Brighton & Hove Albion 30,750
11. King Power Stadium Leicester City FC 32,500
10.St Mary's Stadium Southampton FC 32,689
9.Goodison Park Everton FC 39,572
8.Stamford Bridge ChelseaFC 41,623
7.St James' Park Newcastle United 52,354
6.Anfield Liverpool 54,074
5.Etihad Stadium Manchester City 55,097
4.London Stadium West Ham United 57,000
3.Emirates Stadium Arsenal 60,432
2.Old Trafford Manchester United 76,100
1. Wembley Stadium Tottenham Hotspur 90,000
Bundesliga 2017-2018 Stadium
Bundesliga 2017 2018 Stadium 18.Schwarzwald-Stadion SC Freiburg 24,000 17.BayArena Bayer Leverkusen 30,000 16.Volkswagen Arena VfL Wolfsburg 30,000 15. Wirsol Rhein-Neckar-Arena 1899 Hoffenheim 30,150 14.WWK Arena FC Augsburg 30,660 13. Opel Arena Mainz 05 34,000 12.Weser-Stadion Werder Bremen 42,100 11.Red Bull Arena RB Leipzig 42,558 10.HDI-Arena Hannover 96 49,000 9.RheinEnergieStadion 1. FC Köln 49,968 8.Commerzbank-Arena Eintracht Frankfurt 51,500 7.Borussia-Park Borussia Mönchengladbach 54,014 6.Volksparkstadion Hamburger SV 57,000 5.Mercedes-Benz Arena VfB Stuttgart 60,449 4.Veltins-Arena Schalke 04 62,271 3.Olympiastadion Hertha BSC 74,475 2.Allianz Arena Bayern Munich 75,000 1.Signal Iduna Park Borussia Dortmund 81,360 THANK YOU Stadium World : https://www.youtube.com/channel/UCvq5Tc42hqJ-PolMQXiFfeQ Stadium Europe : https://www.youtube.com/playlist?list=PL4jyPHerqiu96R-fpFTk59TO0HK4VHupy Stadium Asian:https://www.youtube.com/playlist?list=PL4jyPHerqiu9cLBTt82obPKLN1YumIMFM Stadium American : https://www.youtube.com/playlist?list=PL4jyPHerqiu-JGv33zKXa_Kt2TfD9meu9 Top 10 Stadium: https://www.youtube.com/playlist?list=PL4jyPHerqiu9gcrCnmHrntG1a9ji_AoUn Top 1 Stadium: https://www.youtube.com/playlist?list=PL4jyPHerqiu8FYvdRY83SfQcyVL3wGm4y
10 Football Stadiums | Now & In The Future | Ft. Camp Nou, Türk Teleko.
10 Football Stadiums | Now & In The Future | Ft. Camp Nou, Türk Telekom Arena, Stamford Bridge. etc | By ZANOMG CAN WE HIT 4,000 LIKES? :D Ft: 10. White Hart Lane - Tottenham Hotspur 9. Mestalla Stadium - Valencia CF 8. Türk Telekom Arena - Galatasaray S.K 7. Stadio Olimpico - AS Roma 6. Etihad Stadium - Manchester City 5. Vicente Calderón - Atlético Madrid 4. San Siro Stadium - AC Milan 3. Stamford Bridge - Chelsea FC 2. Camp Nou - FC Barcelona 1. Santiago Bernabéu Stadium - Real Madrid My twitter: https://twitter.com/ZAN0MG My Instagram: https://www.instagram.com/ZANOMG Other Videos: 10 Current Players Who Should Become FIFA Legends | Ft. Messi, Ronaldo, Ibrahimovic. etc https://youtu.be/qNGg2Eyy75o FIFA 18 | TOP 10 BEST GOALS | FT. RABONA, BICYCLE KICK, FREE KICK GOALS & MORE. #1 https://youtu.be/bqsX1SH2lPs WORST FIFA FAILS EVER!! https://youtu.be/9O86-kfbWkU 10 Footballers Cars | Then & Now | Ft. Messi, Ronaldo, Neymar. etc https://youtu.be/enAhKZDqSLc 10 Footballers Houses | Then & Now | Ft. Messi, Ronaldo, Neymar. etc https://youtu.be/FUJiR4tJn1o FIFA 17 | WORST GOAL LINE TECHNOLOGY FAILS IN FIFA 17!! https://youtu.be/I_6kjAcoYQA FIFA 18 All 60 Skills Tutorial | Xbox & Playstation | HD 1080p https://youtu.be/LsPufN04tNk FIFA 18 All 60 Celebrations Tutorial | Xbox & Playstation | HD 1080p https://youtu.be/GH4KxLfP4X0 FIFA 18 vs PES 2018 | Real Madrid Players Faces Comparison https://youtu.be/jbWKlr3aA5U FIFA 18 vs PES 2018 | FC Barcelona Players Faces Comparison https://youtu.be/7g3ZC5c251Y FIFA 18 vs PES 2018 | PSG Players Faces Comparison https://youtu.be/0vVL4jytAH8 FIFA 18 vs PES 2018 | Free Kicks Comparison https://youtu.be/RmqPIRWamBw FIFA 18 THE JOURNEY 2 FULL MOVIE/CUTSCENES. 1080p https://youtu.be/uBEsX37nXF8 FIFA 18 Speed Test | Fastest players in FIFA https://youtu.be/0PUAPGJBowg FIFA 18 vs PES 2018 | UEFA Champions League Final Comparison https://youtu.be/h2vAaoZTBgc FIFA 18 vs PES 2018 | Free Kicks Comparison https://youtu.be/RmqPIRWamBw FIFA 18 vs PES 2018 | Skill Moves Comparison https://youtu.be/s51_iYOC1qk FIFA 18 vs PES 2018 Gameplay Comparison https://youtu.be/J61_9hsautY Official | Uefa Champions League Group Stage 2017/18 Draw Result | HD #UCLdraw https://youtu.be/FOUzdSWORwM FIFA STREET Fc Barcelona vs Real Madrid "El Clasico" 2018 MESSI VS RONALDO 2018 Song: Valcos - A New Light [NCS Release] https://www.youtube.com/watch?v=o_v9WSImGIU
Old Premier League Stadiums
This video includes old stadiums of current Premier League teams; Teams with just one stadium in all their history are excluded from this video. Enjoy! Includes: Arsenal Highbury 38,419 Brighton & Hove Albion F.C Withdean Stadium 8,850 Brighton & Hove Albion F.C Goldstone Ground 36,747 Huddersfield Town F.C Leeds Road 16,195 Leicester City FC Filbert Street 22,000 Manchester City F.C Maine Road 35,150 Southampton F.C The Dell 15,200 Stoke City Victoria Ground 25,000 Swansea City Vetch Field 11,475 West Ham United Boleyn Ground 35,016 Song: Elektronomia - Sky High [NCS Release] Link: https://www.youtube.com/watch?v=TW9d8vYrVFQ&index=125&list=PLlhRhmcneELAR32bkzwNDBGa1g_FnX2V6 Premier League stadiums Premier League stadia Premier League venues Premier League 2017/2018 Premier League 2017/2018 stadiums EPL stadiums EPL stadia EPL venues EPL stadiums 2017/2018 English stadiums English football stadiums English stadia England stadiums England football stadiums Premier League teams stadiums Premier League stadium football stadiums football stadiums leagues football stadiums 2017 football stadiums 2018 football stadiums list football stadiums in England England league stadiums Premier League stadiums 2017
Serie A Stadiums 2017/2018
List of all Serie A stadiums for season 2017/2018. Stadi di Serie A 2017/2018. Elenco degli stadi di Serie A per la stagione 2017/2018. Football stadiums playlist: http://bit.ly/2o9tnkk Song: Jim Yosef - Speed [NCS Release] Music provided by NoCopyrightSounds. Video Link: https://youtu.be/lP6mK2-nLIk Download Link: http://NCS.lnk.to/Speed ------------------ Serie A stadiums Serie A stadiums 2017/2018 Serie A 17/18 Serie A venues Stadi di Serie A Stadi di Serie A 17-18 Italian Serie A stadiums Italian Serie A stadiums 2017/2018 Italian Serie A 17/18 Italian Serie A venues Italy Serie A stadiums Italy Serie A stadiums 2017/2018 Italy Serie A stadiums 17/18 Calcio A stadiums Calcio A stadiums 2017/2018 Calcio A stadiums 17/18 Calcio A stadiums venues Italian football stadiums Italy football stadiums Italy stadiums Italy soccer stadiums Italy league stadiums Italian league stadiums Italy league venues Italian league venues Stadi italiani Stadi di calcio italiani Stadio Italia
Ten New Football Stadiums Coming Soon! (In England)
Ten English Football Club Sadiums that's are being built, or will be built soon. A wide range of clubs from the Premier League, to non league. Enjoy! Made with VideoShow Music: New York Love