Other articles
5 Tips for Betting Turf Racing at Arlington Park –, Handicapping Horse Racing – Medium
5 Tips for Betting Turf Racing at Arlington Park
The Arlington Million headlines the biggest day in Illinois racing Saturday at Arlington Park. Along with the featured Grade I Arlington Million is the $600,000 Beverly D. Stakes (G1), the $400,000 Secretariat Stakes (G1), the $250,000 American Street Leger (G3) and the $100,000 Pucker Up Stakes (G3). All five of these graded stakes races are on the turf, so let's take a look at 5 tips for betting turf racing at Arlington Park.
The Arlington Park turf course is a 1 mile oval. The distance from the final turn to the finish line is 1,028 feet, and the banking on the turns is 4 ½%. The Turf Course Section is 5 ½ inches high and 80% Kentucky Blue Grass and 20% Annual Rye. There is a 12" Topsoil and Compact Native Soil.
1. Know which horses run best on soft turf.
The turf course can sometimes come up soft at Arlington Park, so checking past comments from trainers, past performances and recognizing how a horse runs on soft turf gives you an early edge.
2. Identify European horses.
The turf courses in Europe are frequently soft, so if the course shows up soft or yielding, it's more to their liking. Also know that many racecourses in Europe are hilly or undulating. European horses usually don't run as well on firm courses in the United States, but reviewing their past performances and identifying turf condition will assist you.
3. Know the Jockeys.
The leading jockey by far during Arlington Park's 2017 Summer Meet is Jose Valdivia, Jr. He has 90 wins through Aug. 8. The next closest is Christopher Emigh with 38. Valdivia has also finished in the money in a whopping 66% of his nearly 300 starts, and last year he posted a 24% win rate on both the all-weather and turf track.
4. Know the Trainers.
This too is a one-sided competition as the top trainer is Larry Rivelli, who has 52 wins in 155 starts. Last year, Rivelli won 58 of 226 starts. The next closest trainer Steve Manley has 23 wins in 110 starts. Of course, Rivelli-trained horses often take a shorter price at the wagering window. Trainer and jockey stats apply more during the summer meet, while the major racing events bring in more leading jockeys and trainers from the major tracks and national scene.
5. Evaluate running styles.
Know the route races, and recognize all the major stakes races during the Arlington International Festival of racing are routes. Front-end trips won just 16% of the turf routes at Arlington Park in 2016. However, "off-pace" did not necessarily mean far from the front: stalking, midpack, and closing trips all did well enough over the course of the meet to suggest that the track plays fairly across those styles.
There are several big turf races at Arlington International, but be sure to not miss a chance to bet on the Arlington Million!
TwinSpires Horse Race Betting on the App Store
TwinSpires Horse Race Betting
By Churchill Downs Technology Initiatives Company
This app is only available on the App Store for iOS devices.
Description
TwinSpires brings you the most advanced horse betting app for the iPhone and iPad, so you can legally bet on live horse racing and the finest harness racing on the planet. As the OFFICIAL BETTING PARTNER OF THE KENTUCKY DERBY AND BREEDERS CUP, TwinSpires customers enjoy fantastic features and rewards:
• Live programs with up to the minute racing info, results, and news
• LIVE STREAMING video of today's races
• Video replays of past races
• Safe & secure funding and withdrawals
• FREE HANDICAPPING information
• Weekly bonuses, promotions & giveaways
• Racing free picks and expert analysis
Get notifications and handicapping tips for the Kentucky Derby, Preakness, Belmont Stakes, Breeders Cup, and more!
Download the TwinSpires app if you love the thrill of horse racing, and want to bring the experience of the track wherever you go. This horse race betting app is completely FREE to download!
If you require any assistance, please contact us:
- Call: 1-877-SPIRES-1 (1-877-774-7371)
- Or Live Chat and access FAQs here: http://www.twinspires.com/support
- For more information, visit: https://www.twinspires.com/twinspirescom-launches-new-smartphone-app
What's New in Version 1.5.1
We are constantly striving to improve the experience in our FREE TwinSpires app for all of our players. In this release, we have increased usability and performance. If you love the improvements please consider giving us a review. Email Player.Services@TwinSpires.com with any additional feedback!
Screenshots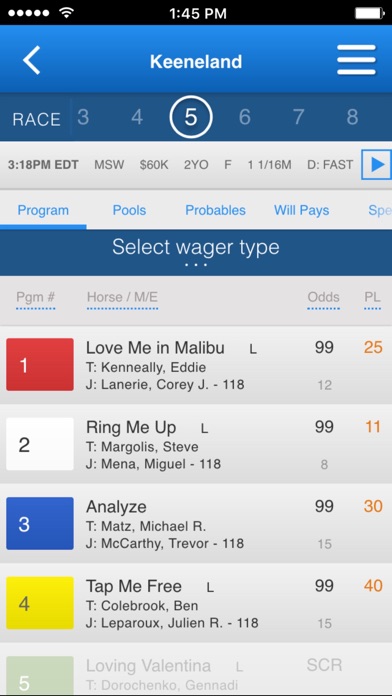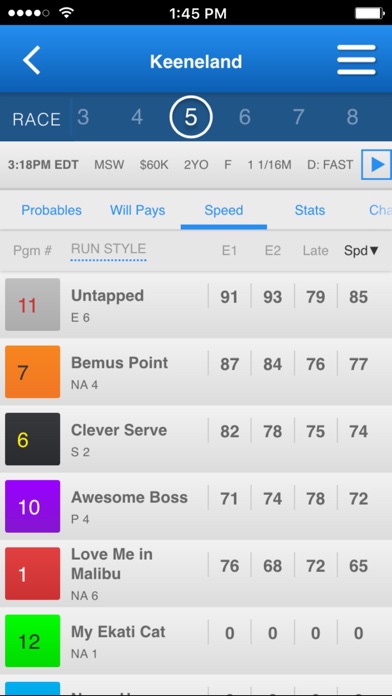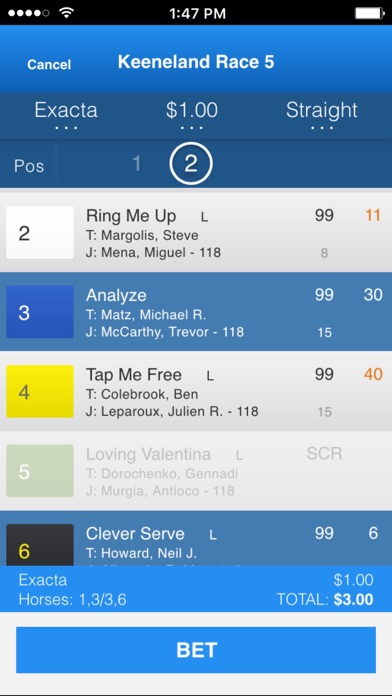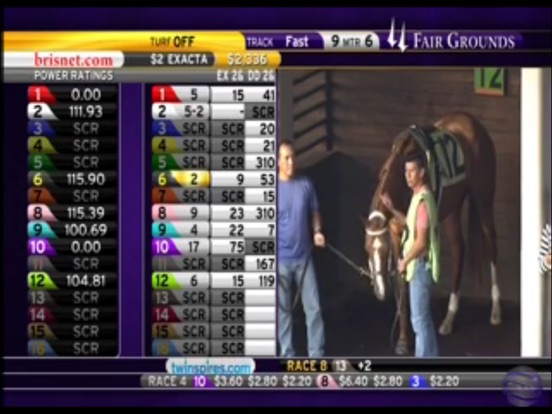 Customer Reviews
Replays and Odds
When we go back to check Final odds that the horse went off its always blank. Also the race replays are head on, not the actual race. Can't use iPad in landscape mode. Please Fix!
Customers Also Bought
Compatibility: Requires iOS 8.0 or later. Compatible with iPhone, iPad, and iPod touch.
Customer Ratings
More by Churchill Downs Technology Initiatives Company
Discover and share
Discover and share new music, movies, TV, books, and more.
Online Horse Betting May Offer Hope for iGaming Expansion in Illinois
Could iGaming Expansion Ride in on Illinois Online Horse Betting Bill?
Illinois often makes the short list of states that could regulate online gambling in the near term, and with the start of the Fall legislative session this week, there is new speculation that such legislation could be piggy-backed onto a bill that would allow for the continuation of online horse betting in the state.
The rules governing online horse betting in Illinois are set to expire in January 2014.
And there have been rumors – only rumors, mind you – that when, and if, lawmakers renew those permissions, the legislature might see an opening to clear the way for other forms of online wagering in Illinois.
Discord among racing interests may interfere
One thing that might get in the way of such a plan, however, is the fact that Illinois' horseracing interests are currently squabbling about how the proceeds from horse bets placed online are distributed.
At issue is what percentage of the take goes to the online operators and what goes to everyone else.
One of the most prominent tracks in the state, Arlington International Racecourse, is happy with how the money is split and wants Illinois lawmakers to renew the regulations as they stand today, according to the Daily Herald.
Not surprising, considering Arlington is owned by Churchill Downs, as is the company that sees the most action from online horse betting in Illinois, TwinSpires.
The Illinois Thoroughbred Horsemen's Association and other Illinois racetracks would like to get a bigger slice of the pie, and the disagreement could ultimately lead to a delay in the approval of the online horse betting rules or a failure to renew them at all.
For its part, the Illinois Racing Board says that if lawmakers do not renew online horse betting regulations – which they did allow to lapse for a period of several months this year – racing schedules for 2014 will be impacted.
While proponents of legalizing online wagering in Illinois have an interest in pairing online horse wagering with other types of online betting, that alliance may not be appealing to the state's horseracing industry, which clearly would prefer to see lawmakers renew the expiring rules rather than scrapping online horse wagering altogether, something not out of the realm of possibility should there be an attempt at expanding the parameters of Internet betting.
Land-based casino bill likely holds no promise for iGaming
Another route to regulated online betting in Illinois could be via a casino expansion bill that never made it to a vote during the Spring legislative term, but is back on the lips, if not the dockets, of Illinois lawmakers.
The House sponsor of that failed Illinois bill, known as Senate Bill 1739, which would have put five new land-based casinos in Illinois, including one in downtown Chicago, in addition to allowing for the installation of slot machines in Chicago's two major airports, is set to revisit the issue today in a legislative hearing.
State Representative Bob Rita (D-Blue Island), says he wants to find out what needs to be done to give the legislation better chances for success should he decide to re-introduce it in the state's lower chamber, though Rita also acknowledged that he sees little likelihood of a casino expansion vote taking place this term.
"I want to make sure this thing is done in the right way," Rita told the Chicago Sun-Times' Southtown Star.
It should be noted that as SB1739 made its way around Springfield earlier this year, an online component was stripped from the legislation primarily to make the bill more attractive to Illinois Governor Pat Quinn.
Governor Quinn, never a proponent of increasing the scope of gambling in Illinois, has continually stressed his unwillingness to support gambling expansion before lawmakers deal with the state's massive $100 billion public pension shortfall, a problem he again addressed yesterday, calling it an "extreme emergency."
Quinn, who faces re-election next year, has repeatedly remarked that he expects Illinois legislators to focus on a fix for the state's pension deficit, not gambling.
You may also like.
Latest Posts
Steve Ruddock | October 13, 2017
Dustin Gouker | October 12, 2017
Dustin Gouker | October 12, 2017
Dustin Gouker | October 10, 2017
Steve Ruddock | October 10, 2017
Matthew Kredell | October 9, 2017 Inside NJ's Regulated Online Casinos
NJ Online Gambling List, News, FAQs
Current promotions and FAQs for NJ's regulated online casino and poker sites
Regulated Online Poker Sites
John Mehaffey | October 9, 2017
Robert DellaFave | August 9, 2017

Copyright © 2012 - 2016 Online Poker Report
TwinSpires - Online horse betting licensed in the U
Legal Gambling in USA
Online casino games, poker and horse racing betting websites authorized in USA
Online Horse Racing Betting
Our selection of online horse racing betting websites licensed in the USA
Online Horse Racing Betting News Legal Gambling

Synthesis of online casino, poker and betting websites authorized in the U.S.
US states Gambling News

State-by-State gambling news
Horse Betting License in USA
TwinSpires is U.S. based and licensed
Live Video :
Note :
TwinSpires - Legal website in the U.S.
TwinSpires is the Official online wagering site of Churchill Downs and the Kentucky Derby.
Churchill Downs Incorporated is the home for the Twin Spires; their splendid design has made of Churchill Downs the idyllic racetrack for any Thoroughbred competition. The architectural works on the racetrack have placed Churchill Downs among the best, becoming the home for the most important events in the world like the Kentucky Derby and the Breeder's Cup. The online wagering site, Twinspires.com, has provided the US with the best Thoroughbred, Harness and Quarter Horse races for over 10 years. Twin Spires continues offering wagering services for Churchill Downs although the advance of the new technologies has allowed the site to offer its services online all around the country. TwinSpires.com has great offers to its players including free wagering services with no subscription fees, Welcome Bonus of $100, Referrals bonus and the EZ-Money online deposit and withdrawal service. TwinSpires.com has also other great features to offer like free BRISNET past performances, live streaming video and race replays, free enrollment in the VIP and TSC Elite programs, real time information on any race where we will find odds, will-pays, program changes, track conditions and race results.
TwinSpires.com affiliates have already enjoyed all the features that the site provides with, such as free online wagering services with no subscription or per wager fees, free live video and horse race replays, free BRISNET past performances, free live operator wagering and IVR wagering, free BRISNET insider picks and power plays tip sheet, TSC Elite player rewards, free ACH deposit and withdrawals with EZ Money and free BRISNET Super stats. TwinSpires.com affiliates can enjoy other premium features like FastBet TT Interactive, TwinSpires Express program layout, TwinSpiresPro wager pad, TwinSpires TV with the best online races, TwinSpires Mobile for electronic devices such as iPhone, iPad and Droid, Conditional Wagering and Wager Cancellation.
Among the methods of deposit and withdrawal, we can use several of them starting with EZ Bank, an easy Pay-Bill method available to customers of Bank of America, BB&T, Chase, HSBC Bank USA, ING Direct, PNC, Regions, SunTrust and U.S. Bank. EZ Money is another easy way to transfer funds between our bank and TwinSpires.com accounts; we can also use MoneyGram, MoneyPak's prepaid card Green Dot, and any debit, credit or ATM card from MasterCard or VISA. Options like walk-ins are also available for those players who can transfer funds in person at any of Churchill Downs' kiosks; we can also add money to our account by personal checks, money orders and cashier's checks as well as wire transfers.
Horse betting offered on TwinSpires
While TwinSpires is the Official online wagering site of Churchill Downs and the Kentucky Derby, players are able to wager on virtually every Thoroughbred, Harness and Quarter Horse race from venues across the globe.
States Information from TwinSpires
TwinSpires is a licensed account wagering service provider in the state of Oregon.
You must be at least 18 years of age (except Washington residents must be at least 21 years of age) and a resident of a state where the TwinSpires wagering system is available.
Welcome bonus offered by TwinSpires
$100 sign-up bonus
>> Bet in TwinSpires
Recent News TwinSpires
What's life like on the VIP list? With the newest offer from Twinspires, you have the opportunity to find out! You might win a VIP trip for two and get the chance to check out the Breeders Crown, which happens live from Oct. Read more
The official online wagering portal of the Kentucky Derby, TwinSpires.com, recently launched a new app for betting on horse racing. While the previous TwinSpires app was web based, this new app is available in Apple's offic. Read more
News Legal Online Horse Betting in USA
Ever wondered what it's like to get the VIP treatment? Through the VIP program of BetAmerica.com, you can take advantage of the care from the VIP program. BetAmerica Elite doesn't differ, and BetAmerica treats their custome. Read more
What's life like on the VIP list? With the newest offer from Twinspires, you have the opportunity to find out! You might win a VIP trip for two and get the chance to check out the Breeders Crown, which happens live from Oct. Read more