Latin Americas new consensus - People - s World
Latin Americas new consensus
When the Mexican dictator Porfirio Díaz said the great tragedy of Mexico was that it was so far from God and so close to the United States, the comment summed up the long and tortured relationship between the Colossus of the North and Latin America.
Starting with the Monroe Doctrine in 1823, the United States has routinely dictated the hemisphere's political and commercial life and, on a score of occasions, overthrown governments it found inimical to its interests.
But the world has suddenly turned upside-down.
South America now boasts the third-largest trade bloc in the world, Mercosur, which includes Argentina, Brazil, Uruguay and Paraguay. Venezuela is in the process of joining as a full-fledged member while Chile, Bolivia, Peru, Colombia and Ecuador have associate status, and Mexico is an "observer." Even without the coming expansion, Mercosur represents the bulk of the continent's landmass and its two most powerful economies.
A dozen countries also recently formed a new political organization known as the Union of South American Nations (UNASUR); Mexico and Central America have observer status in the European Union-like entity.
Testing newfound independence
The global economic meltdown will sorely test this newfound independence in the coming months. In the past, if Washington sneezed, Latin America came down with pneumonia. Will the current economic conflagration derail South America's growing autonomy, allowing the United States to again dominate the region?
The economic crisis will certainly impact South America. Currency values from Brasília to Mexico City have fallen. At the same time, most Latin American countries are in a better position to weather the storm than the United States, Europe and Japan, where banks play a larger role in the economy.
"No one can avoid the events of the past few weeks," says Riordan Roett, director of the Johns Hopkins Western Hemisphere Studies Program, "but we are seeing some countries better insulated than other countries." Brazil's foreign exchange reserves, for instance, amount to more than $206 billion, which should cover the country's need for export credit until "the most acute stage" of the crisis is over, says Brazilian Finance Minister Guido Mantega.
And because the government of Luiz Inácio Lula da Silva has reduced poverty, thus expanding its internal market, the country is in a better position to endure the global financial turbulence. "Brazil is not immune to the crisis," says Mantega, "but this affects the countries with problems in their banks more, and countries like Brazil less."
Argentina also has substantial central bank reserves — $47 billion — and is hinting that it will delay repaying its $6.7 billion debt to western creditors until it can negotiate better terms.
Venezuela and Brazil are leading an initiative to form the Bank of the South (BancoSur), an institution that would pool a portion of participating countries' reserves, and ultimately replace the International Monetary Fund, and its onerous insistence on cutting social and infrastructure programs as conditions for its loans, with a more development-friendly approach. Besides Brazil and Venezuela, Bolivia, Ecuador, Colombia, Paraguay and Uruguay have signaled their interest in joining.
Venezuela has reserves of $30 billion, the largest per-capita total on the continent, says Martin Saatdjian of the Ministry of Foreign Affairs, but the government is being careful. It's considering a "minor devaluation" of the bolivar, Venezuela's currency, and "austerity spending for the next fiscal year" if the crisis "deepens and the price of oil drops," says Saatdjian.
Caracas is spreading its oil wealth throughout the continent, which has cushioned the impact of the economic downturn. The fact that Venezuela bought $2.4 billion of Argentina's debt beginning in 2005 has helped Buenos Aires build a rainy-day fund.
Starting in the late 1990s, South America stepped up its efforts to diversify trade with the rest of the world, in particular resource-hungry China. Beijing buys Chilean copper, Cuban nickel and cobalt, Brazilian and Uruguayan soy, and Venezuelan, Ecuadorian and Bolivian oil and gas.
Trade between Latin America and China totaled $102.6 billion in 2007, and the Chinese currently plan to invest up to $100 billion over the next five years. Brazil, Chile and Argentina have a total of $28 billion in two-way trade with China, and China is investing heavily in Chilean copper and Venezuelan, Bolivian and Ecuadorian oil and gas. Beijing is currently negotiating a free-trade agreement with Peru. Almost half of China's foreign investment goes to Latin America. While China's economic growth is slowing down, that term is relative. Its economy is still growing at a 9 percent annual rate, and the Chinese government is taking steps to keep growth from falling any lower.
Russia and Iran have also become major players in Latin America. Russian Deputy Prime Minister Igor Sechin, accompanied by business leaders, just finished a tour of Cuba, Venezuela and Nicaragua, and the Russians are helping to develop oil fields in Venezuela, Bolivia and Ecuador. Iranian President Mahmoud Ahmadinejad has been welcomed in Venezuela, Bolivia, Ecuador and Nicaragua.
Still gaining steam
The United States, on the other hand, is saddled with the legacy of its "Washington Consensus" policy of wide-open markets. The neoliberal strategy led to ruinous debt in Latin America, exacerbating its yawning gulf between rich and poor, and financial catastrophes like the protracted Argentine collapse, which began in 1999 and impoverished half that country's population. The wreckage wrought by the Washington Consensus and the International Monetary Fund's enforced austerity sparked an economic and political revolt in Latin America that's still gaining steam.
Brazil and Argentina paid off their IMF debts ahead of schedule and concentrated on building infrastructure and alleviating poverty. The result has been a steady economic growth, with expansion this year of 4.4 percent, which, according to Citibank forecasts, will fall next year, but probably not more than a percentage point. In contrast, U.S. and European growth rates are projected to drop to 1.5 percent, or even to zero. Latin America is "a better-built boat," says the World Bank's chief economist for the region, Augusto de la Torre. Political independence is on the agenda as well.
In 2003, no South American country backed the U.S. invasion of Iraq. In 2005, South America rejected a U.S.-led Free Trade for the Americas pact. And while Washington is hostile to left-led governments in Venezuela, Bolivia and Ecuador, the rest of the continent has rallied behind them.
Rather than looking north, countries like Brazil are increasingly developing south-south relations. In 2003, India, Brazil and South Africa formed an alliance called IBSA (an acronym derived from the three nations' names), which met recently in New Delhi to discuss a joint approach to the current economic crisis, as well as food security and energy prices. Between them, the countries represent 1.3 billion people and three of most dynamic economies in the developing world outside of China. Trade between the three is projected to top $15 billion by 2010.
Developing countries "need to learn from the crisis to construct a new world economic order," Lula says. The economic crisis has accelerated these moves toward breaking the stranglehold the United States has had on the world of finance. There is a "new reality," says United Nations General Secretary Ban Ki Moon, "new centers of power and leadership in Asia, Latin America and across the newly developed world."
German Finance Minister Peer Steinbruck is blunter. "The U.S. will lose its status as the superpower of the world's financial system. This world will become multi-polar … the world will never be the same again."
Beset by economic crisis and bogged down in two unwinnable wars, the Colossus of the North no longer wields the clout it once had. "In the past, the door for talks with the United States on any issue had to remain open. We had no choice," a Brazilian diplomat told Southern Pulse, an Internet site on Latin American security. "Now we can close it if we want."
Conn Hallinan is a Foreign Policy In Focus columnist. This article is reprinted from www.fpif.org with permission of the author.
RELATED ARTICLES
MOST POPULAR
Sorry. No data so far.
Your donation keeps People's World on line and up to date!
Will Latin America Regain Prosperity in 2017?
Will Latin America Regain Prosperity in 2017?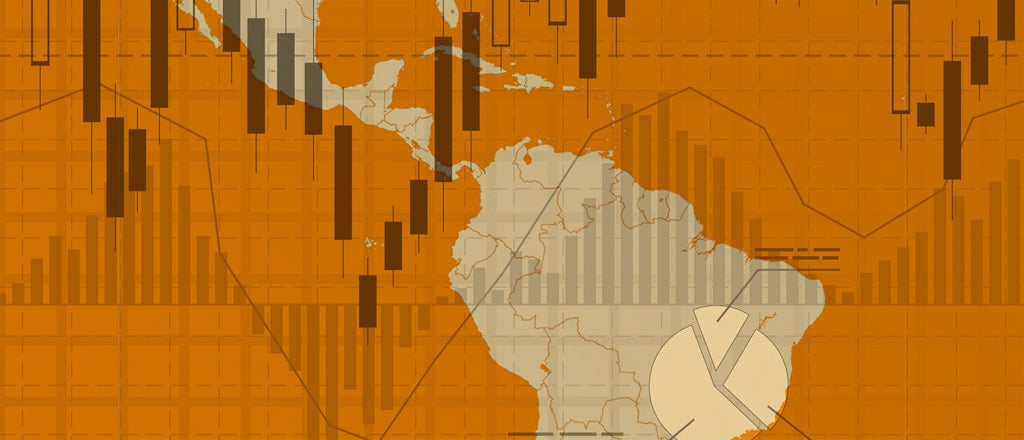 Latin America's major nations are hoping that 2017 will be the year that they finally recover from the lingering impact of weak commodity prices. For the fourth consecutive year, Latin America's exports contracted in 2016, according to a report by the Inter-American Development Bank (IDB), using detailed data for 24 countries in the region. In 2016 Latin American and Caribbean exports fell by approximately $50 billion, or 6%. The value of exports was expected to reach $850 billion for 2016, a lower rate of contraction than the 15% drop suffered by the region in 2015. This latest annual decline was due primarily to declining sales to the United States (down 5%) and to the region itself (an 11% contraction), and, to a lesser extent, declining exports to China (down 5%), the rest of Asia (a 4% drop), and to the European Union (minus 4%).
Leaders in Latin America are also pondering what impact incoming U.S. President Donald Trump's policies will have on the region's economic growth and global trade in 2017. During his campaign, Trump advocated imposing protectionist barriers on U.S. imports of Latin American goods, which could potentially thwart the region's attempts to boost exports to earlier, healthier levels. Another uncertainty facing Latin America is how Trump's economic strategy will impact the value of the U.S. dollar.
The U.S. dollar will appreciate for two reasons, predicts Wharton management professor Mauro Guillen, who is also director of The Lauder Institute. "One reason is that interest rates are going to go up. A second reason is that the U.S. economy is probably going to do better than others," he notes. The rise of the dollar will be "bad for countries that are commodity exporters, because commodity prices will tend to go down — and short-term capital flows are likely to hurt countries like Brazil or Peru or Chile," Guillen says. However, "contrary to the conventional wisdom, Mexico will do well because of the stronger dollar, while South America is going to be in a lot of trouble for the same reason." Unlike the major nations of South America, Mexico is not a commodities exporter, but a major exporter of manufactured goods such as automobiles and electronics. "Mexico competes against China, but South America supplies China."
But while "an acceleration of demand, particularly in the United States and in China, could sustain exports" from Latin America to the U.S. and China, "the resurgence of trade protectionism" in the United States "could bias the forecast," according to Paolo Giordano, coordinator of the IDB report, and the principal economist of its integration and trade sector.
Another major issue is the ultimate impact of any changes in U.S. policy toward China, which is now the most important trading partner for several countries in Latin America. "That is a huge issue for some countries in South America," notes Guillen. If China starts growing a bit faster, despite changes in U.S. trade policy, the results will be positive for South American commodity exporters, such as Argentina, Brazil, Chile and Colombia. "But if it does not, then South America is going to have continuing problems…. If China doesn't grow as much, as has been the case for the last three or four years, those countries will suffer because China has become their most important customer."
"Contrary to the conventional wisdom, Mexico will do well because of the stronger dollar, while South America is going to be in a lot of trouble for the same reason." –Mauro Guillen
According to the IDB report, "The prospects for a reversal of the downward trend in 2017 are associated with a scenario in which commodity prices continue to improve, and intraregional trade recovers. Those countries whose real exchange rates have depreciated could also harness greater price competitiveness to stimulate [manufactured goods] sales and diversify their export baskets."
Knowledge@Wharton High School
Brazil, the largest economy in the region, has sunk into the worst recession in its modern history amid low prices for key exports, high inflation, relentless political turmoil and depressed confidence levels. In annual terms, industrial production fell 7.3% in October, a larger drop than the 4.7% decrease recorded in September, and a five-month low. According to Barcelona-based LatinFocus Economics, Brazil's economy should exit recession in 2017 after falling 3.4% in 2016. "However, the pace of recovery is likely to be meager amid austerity measures and modest external conditions." The consensus of economists polled by LatinFocus projected Brazil's GDP growth at 0.8% in 2017.
Widespread declines were recorded nearly across the board in fall 2016 in 22 of the 26 categories surveyed by the Brazilian Institute of Geography and Statistics (IBGE). The categories that declined the most were the production of mining and quarrying, coke, oil products and biofuels as well as food products. Annual average growth in industrial production improved from minus 8.7% in September, but only to minus 8.4% in October.
Felipe Monteiro, a professor of strategy at INSEAD and a senior fellow at Wharton's Mack Institute for Innovation Management, notes that Brazilian analysts were aware that 2016 would be a year of "a lot of uncertainties," because of the "big issue of impeachment" of President Dilma Rousseff, which ultimately occurred in August. "We were hoping that we would see the light at the end of the tunnel, and we got some sense of resolution — that things would move forward after the impeachment [of Rousseff]," Monteiro says.
"If China doesn't grow as much, as has been the case for the last three or four years, those countries will suffer…." –Mauro Guillen
But a second period of crisis followed later in 2016, culminating in a scandal involving construction giant Odebrecht, S.A., which now "puts Brazil again into another tunnel with a lot of uncertainty about how long it will take to resolve, and how many people will be implicated," Monteiro adds. As of mid-December, more than 70 of Odebrecht's executives, including family patriarch and Chairman Emilio Odebrecht, his jailed son and former CEO Marcelo Odebrecht, had agreed to make plea statements that have been received by the Supreme Court to validate them as evidence.
The good news for Brazil in 2017, says Monteiro, comes from two considerations: First, Brazil's current economic team is more pro-business than Rousseff's populist aides, and "it is doing the difficult things that have to be done to put the economy back on track." Brazil's economic austerity plan was approved in December, outlining measures to freeze expenses for the next 10 years. "It is painful but necessary," Monteiro notes. "Despite all the weaknesses of the current government, they managed to approve it. This plan gives more hope that the economy will go back on track, [although] we are far from a resolution of the political fight." Moreover, as it moves forward after Rousseff's impeachment, Brazil has remained on a democratic path, "with no rupture — and no censorship. So, for a young democracy like Brazil, as painful as it is, this should give us some encouragement."
Although the future of U.S.-Mexico relations came into question following Trump's surprising election victory, his win did not create the same level of uncertainty in Brazil, given the different nature of its ties to the U.S. Not only does Brazil not export a high level of manufactured goods to the U.S., the U.S. enjoys a trade surplus with Brazil, unlike the case with U.S.-Mexico trade. In 2015, the U.S. surplus with Brazil was $4.3 billion, down 64.2% ($7.6 billion) compared with 2014. Total U.S. exports to Brazil in 2015 amounted to $32 billion, down 25% ($11 billion) from 2014, but up 106% from 2005. The top U.S. imports from Brazil in 2015 were mineral fuels, aircraft, iron and steel, and machinery. With no equivalent of NAFTA to renegotiate, U.S.-Brazilian trade discussions in the Trump era will likely boil down to building "a very pragmatic, bilateral commercial relationship," based on a "more deal-by-deal approach" to problem-solving in specific sectors, Monteiro says.
"[Brazil's austerity plan] gives more hope that the economy will go back on track, [although] we are far from a resolution of the political fight." –Felipe Monteiro
Despite such pragmatism, in the age of Trump there is a risk that "if the relationship between Latin America and the U.S. becomes less important because the U.S. shifts more of its internal political relationships toward Russia, that will open space for China to play a more important role in Latin America," Monteiro notes. China is already making a number of efforts in that regard, he adds. Another risk, according to Guillen, is that if the Trump administration increases tariffs on imported goods from Latin America, "that is going to increase consumer prices in the U.S." and "inflation is also going to accelerate." Guillen cautions that U.S. policy makers need to consider not just the immediate impact of their measures, but their "second order effect," which could turn out to be very different from what they expect.
The Case of Colombia and Argentina
Elsewhere, two other major countries face somewhat different challenges in 2017.
In 2016, the economy of Colombia grew by just 1.2% in the third quarter, according to production-based GDP data, the slowest quarterly growth since the global financial crisis hit in 2009. The country's results were affected by a prolonged truckers' strike and subdued global trade. More positively, the country's Senate approved a revised peace agreement with the FARC rebels in November, a month after the original proposal was rejected in a controversial plebiscite.
The new deal establishes a stronger government presence in rural areas dominated by the FARC, and it obliges FARC rebels to divulge their assets while providing judges with more authority if insurgents are found guilty of drug trafficking. Nevertheless, public opposition to the pact remains strong, led by former president Alvaro Uribe. Moreover, the weakness of the global economy "is weighing heavily on the country's economic outlook," notes a LatinFocus Consensus Forecast. For all that, the peace agreement could boost growth in tourism, oil exploration and foreign direct investment in Colombia's conflict-ridden areas, adds that report. The consensus of analysts was that Colombia's economy will grow by 2.5%, up from 2.0% in 2016.
"2016 was a very important year for countries like Argentina and Brazil to move away from very populist governments." –Felipe Monteiro
In Argentina, which is transitioning from the populism of two Kirchner presidencies (Nestor Kirchner from 2003-2007 and Cristina Fernandez de Kirchner from 2007-2015) to the business-oriented administration of current President Mauricio Macri, the economy is expected to return to growth in 2017, reflecting the impact of Macri's market-focused economic reforms, and the improved business sentiment, according to a LatinFocus Consensus Forecast. After dropping by 1.1% in 2016, industrial production in Argentina is expected to expand by 2.5% in 2017.
For the populism-prone nations of South America, there is an irony in the timing of the victory of Trump in the United States, says Monteiro. "2016 was a very important year for countries like Argentina and Brazil to move away from very populist governments. Anti-business nationalist regimes – such as Fernandez de Kirchner in Argentina and Rousseff in Brazil — were replaced by governments that are much more pro-business — with Macri in Argentina and Michel Temer in Brazil," he says. "Ironically, now when those two countries, which have a very important influence on the rest of the region, are moving towards more good relationships in global trade, the United States, which has always been pushing for that kind of [free-trade] agenda, is [moving] towards more isolationism. It is almost a paradox."
Citing Knowledge@Wharton
For Personal use:
accessed October 25, 2017. http://knowledge.wharton.upenn.edu/article/will-latin-america-nations-regain-prosperity-2017/
For Educational/Business use:
Additional Reading
India's Economic Slowdown: Is It Dire, or Just a Disruption?
Although some are saying that India is facing an economic crisis, analysts disagree about what's behind the country's recent decline in growth, or what the long-term effects will be.
Public Policy
Why Puerto Rico Faces Worse Perils Than Texas and Florida
Puerto Rico suffered a worse disaster -- and faces a much longer, more fraught, path to recovery -- than Texas, Louisiana or Florida.
Sponsored Content
The Private Equity Outlook in Latin America, India and Africa
Bullish long-term sector trends make Latin America, India and Africa attractive to PE firms, but they are cautiously eyeing investments due to current upheavals in certain areas.
Join The Discussion
One Comment So Far
Ricardo Medel
"After dropping by 1.1% in 2016, industrial production in Argentina is expected to expand by 2.5% in 2017."
Why you expect this? There is no data or analysis in the text. Can you explain?
stay informed
Get Knowledge@Wharton delivered to your inbox every week.